OFC2023 now is hold at the San Diego Convention Center in San Diego, California, USA. The following is a set of photos from the Booth of Latitude Design Automation Inc.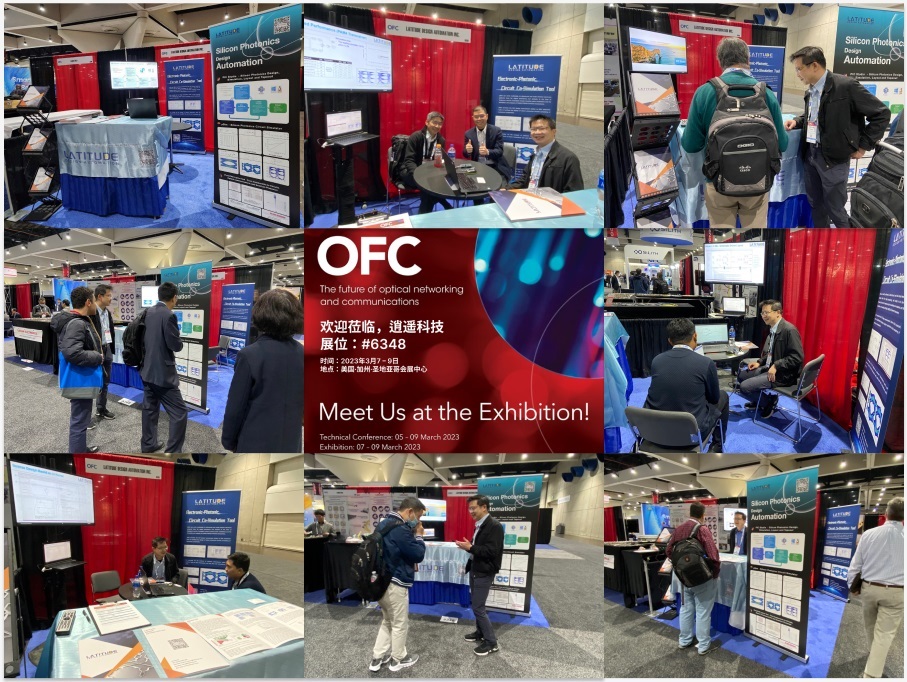 Dr. Chen, CTO of Latitude Design Automation, is on-site to show visitors the EDA/CAE solutions PIC Studio for design, layout, simulation and flow verification of optoelectronic chips, including pSim circuit simulation engine, PhotoCAD layout tool, and Advanced SDL to support the automatic generation of schematic to layout of optical communication chips.
Visitors from all over the world expressed great interest in our "special process" semiconductor chip design automation full-flow EDA/CAE solutions, asking many technical questions in detail, and some clearly expressed their intention to cooperate or purchase. Dr. Chen said, "At our booth, we interacted with many professionals every day, and there were users, fabs and friends who expressed their desire to connect the design flow of silicon-based optoelectronic chips, and most of them are interested in pSim circuit simulation tools, PhotoCAD layout automation tools, SDL and LDS tools. With two days left in the show, visiting to our Booth is truly welcome."
As a China local EDA solutions vendor, this is the first time to go international. We will continue to develop and improve our product line to provide the industry with international first-class EDA/CAE solutions for design, simulation and verification of silicon-based optoelectronic and compound optoelectronic chips, and we will also cooperate with Fabs to provide PDK development engineering services.
For more information about our products, please visit us at booth #6348.
Or visit our website at: https://latitudeda.com/